Welcome to the Synthetic Turf Team of Boca Raton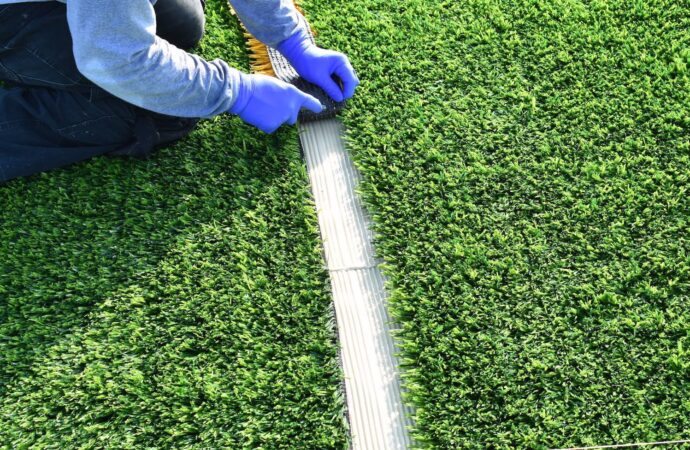 Synthetic Turf Team of Boca Raton is proud to be your #1 option in the area as we are able to handle all types of synthetic turf installation and assist with different projects, areas, and spaces. We want to make sure everyone can have a stunning green surface all year round, in addition to how safe and soft it should be.
Playgrounds, schools, athletic fields, businesses, and your regular residence or home are part of the spaces we can help with. Although our residential synthetic turf installation service is the most common request, we remain experienced and qualified to deal with other areas since our professionals have at least five years of experience working in installations, repairs, and maintenance for a wide range of green spaces.
Playgrounds and schools are particularly our favorites as we are able to offer a design that looks stunning, and its main purpose is to offer children and students safe areas to play in all day long, and all falls and accidents will be minimized with the latest technology in artificial turf.
Isn't Natural Grass or Turf Better Than Artificial?
Many people love natural grass, and we understand why because having the real thing is often appreciated by many customers, and the beauty it offers to the area cannot be ignored. However, many problems come with having it:
A lot of watering is required to maintain it.

High maintenance is inevitable.

Fertilizers are often used to maintain the grass green.

Empty areas—where the grass has died or is being damaged—are hard to cover or fix.

It doesn't stand all weather conditions.
Meanwhile, synthetic grass offers the same appearance and aesthetics while getting rid of the previous issues. We promise that with our products that are manufactured by our company and reliable and close partners, you will have synthetic turf that looks exactly like the real thing and even better. Additionally, you will receive many benefits:
Reduce your water bills.

Enjoy it with low maintenance.

Get rid of fertilizers or any chemicals often used.

Damaged areas can be repaired or simply replaced with new pieces.

It stands for all weather conditions, especially the sun and rain in Florida.

Additional heat block.

Earth-friendliness and pet-friendliness.

Be able to save time and money in the long run.

Have a return on your investment.
Our team will help you go over all the benefits in detail when you are considering taking this step and help you determine what the best type in our stock is better for your space, patio, garden, or other areas.

Is Artificial Turf Needed in All Green Areas?
Yes and no. You always have the option of remaining with natural grass and turf if you wish for it, but having the synthetic option installed will be better not only for you but also for the planet.
Since watering is needed less frequently and you won't have to use chemicals for its maintenance, you will be helping reduce water consumption for unnecessary activities and keep your patio or yard clean and non-toxic for children, pets, and yourself by not using fertilizers.
Synthetic Turf Team of Boca Raton highly recommends using this artificial alternative not only for the previous benefits but also because people and the public, in general, get to spend more time outdoors when they have green areas that are always ready for use.
Since artificial grass stands all weather and the right type can be put in place for the specific volume of foot traffic and activities to take place, people can just go outside and have a picnic at the park, and companies will have their employees or customers enjoy the green area, fields will be ready for training and practice, schools will be safer, and your green space at home will be optimal for use whenever you want and need it.
The question, instead of being if artificial turf is needed in all green areas, should be if it is a good option and also possible to install it wherever you want, for which the answer is 'yes.'
Regardless of the space you have in mind or in your hands, we can help you install the perfect artificial grass for your space, and the size is not an issue as it will only vary our timeline for delivering the installation or service.
We are confident that more people in Boca Raton and nearby cities are starting to choose it over the real thing, which doesn't really contribute to the planet when it isn't in nature—forests, mountains, and similar areas—where it can just grow and remain without human interference and maintenance.
How Do We Determine the Best Type of Turf for You?
This will require a first assessment and appointment with you or the one in charge of the project.
Besides measuring the space available and where you want us to install the turf, we need to know all the details regarding the people that will use the area, activities to take place in it, and if you will install any additional equipment or elements in the future or even once we finish the installation.
Not all artificial turf and grass offer the same features and benefits. Some will last longer in playgrounds where children play all day long, run, and even try to pull it, while others will look stunning, just like when you're designing a fancy landscape but won't be able to stand high-impact activities for long.
The foot traffic volume is the first thing we need to know to start reducing the options of our catalog. Athletic fields, schools, playgrounds, and commercial areas are often considered of high volume, while patios, gardens, or yards are either low or moderate since most homeowners just want a space to spend some time as a family or with their pets and have visited once in a while.
Next, we need to know if you have future plans for the green area, so you don't have to go over synthetic turf installation once more. For example, maybe you are designing your landscape to be a garden with some flowers and plants, but you wish to turn a part of it into a mini golf course or request to putting greens. The grass or turf used for both goals are totally different, and we could offer an alternative and install the right ones if you let us know in advance.
If you have preferences regarding how your turf or grass should look or if you have a limited budget, we will also take this into consideration to give you different alternatives that will perform similarly to one another.
The design we come up with and how we work with your space also influences the recommendation, and we will need to determine this either during our first visit when assessing the area and taking the measures or a few calls later once we have a good idea of what can be done and what you want.
This is a process that involves you, and we won't make any decisions nor prioritize what we think over what you want. However, our professionals know best, and we would love it if you were open to some guidance and recommendations for your best interests.
Is Synthetic Turf Installation Everything We Do for You?
This is only where our assistance and services begin. We can handle everything related to artificial turf and grass installation, but our professionals are always ready to serve you in different ways:
Are Repairs Hard to Deal with?
If you have never worked with synthetic turf or you are just a user that doesn't know much about it, we recommend you always rely on professionals.
The word 'hard' doesn't really describe working with repairs. It is rather about not having the right tools and experience to handle most of the issues whenever repairs are needed.
Burned, torn, pulled out, or entirely damaged by external elements are problems that need to be handled in different ways. Using specific tape and glue can be a simple solution in many cases while replacing the entire piece or working on coloring the grass again requires earth-friendly and non-toxic products along with new parts for the turf to be replaced.
If you aren't sure about what is needed for yours, we will assess the damage and provide a list of solutions if it is possible. If there's a single way to repair the damage, we will let you know right away.
Most repairs take around a day or two to get done, depending on the number of damaged areas there are. If it is a single piece or maybe just some spots, we can handle it within a few hours. Meanwhile, replacing a piece with a new one will have some limitations that could delay the repair:
We need to know what turf was used by having a closer look at the entire area or, in case you installed it with us, know your name and when the installation was done.

Select the same type of turf or choose a similar one that won't make a difference when it comes to performance and looks.

Have a look at other areas and close pieces to the damaged ones to see if they need to be replaced as well to prevent future issues.
In most cases, owners have their leftovers from the installation stored, and we will be happy to use these to have your repair is done, which will save you the cost of acquiring a new piece for it.
In our case, we always leave leftovers and insist on having them stored so you can let our team know whenever there's an issue with your turf or grass, and we will use those to save you lots of money and time.
"How Do I Know If I Need Turf or Grass?"
This is part of our job, and if you have followed along, you will remember that artificial grass is often needed for landscaping and aesthetics, while synthetic turf is for areas with a high volume of foot traffic.
However, this doesn't mean you cannot use one or the other if you have certain preferences. Our role is to let you know why one will be better than the other in the short and long run and, from there, give you a few alternatives on the type that can be installed.
We have, however, dealt with clients that wished for grass where turf would be better yet, they preferred the aesthetics of the artificial grass over the synthetic turf, which we respect, but we will provide some recommendations and warnings regarding how it will be affected by the activities or events taking place in the green area.
All our products have a 10 to 15-year warranty, but when it isn't the ideal one for the space as our professional recommendation, we won't offer the warranty for some damage that is inevitable based on the decision you may make and the surface you chose over the ideal one.
We want to make this clear, but this DOES NOT mean you will lose your warranty; we will leave everything clear and make sure that you are aware of all the details and why you will need artificial turf or grass for your project.
Is It Possible to Have Synthetic Turf & Grass Installed in the Same Place?
Without issues. This is often requested when the size of the worksite is quite large and different parts are meant for different activities, or the foot traffic is lower than in others.
This is why the first visit and assessment are so important, and the more details you give us, the better we are able to serve you and come up with a design.
We have worked on the installation of turf and grass simultaneously and in the same green area. One of the most common is in schools where fields don't really need grass but rather a turf, but gardens or spaces to rest and sit would be better off with artificial grass.
What worries most clients is: will the harmony in how they look be missed?
Thanks to the wide variety of turf and grass we have in stock and worry about manufacturing ourselves, we are able to find a balance between functionality, performance, and looks. In other words: you won't lose the harmony but rather have a very even space.

The color is the main focus as this will often tell when one space is different from another or if in one single area you have multiple types installed. Next, we will worry about the type of grass in particular since it tends to be different from all turf, and we'll find the best option that can be either customized or installed as it is, so you won't be able to tell the difference.
This is a lot of work, but it can be done. We just hope you are quite specific about why you want this since it will help us, Synthetic Turf Team of Boca Raton, choose the best alternatives and come up with a solution plus design.
Otherwise, it will be quite hard to offer a result that satisfies you. We will always seek harmony and the perfect blend, but we are worried about how satisfied you are in terms of functionality, longevity, and durability.
You'll also need to remember that if you ever decide to change the order or distribution of the areas, you will have to keep the type of turf and grass installed in mind since they may not perform well for what you have in mind.
When in doubt, contact our team right away. You're welcome to call, email us, or pay us a visit anytime and we will be happy to guide you through this process or any other project and service you need us to handle.
Below is our list of additional services: