Synthetic Turf Repair Services for Boca Raton Residents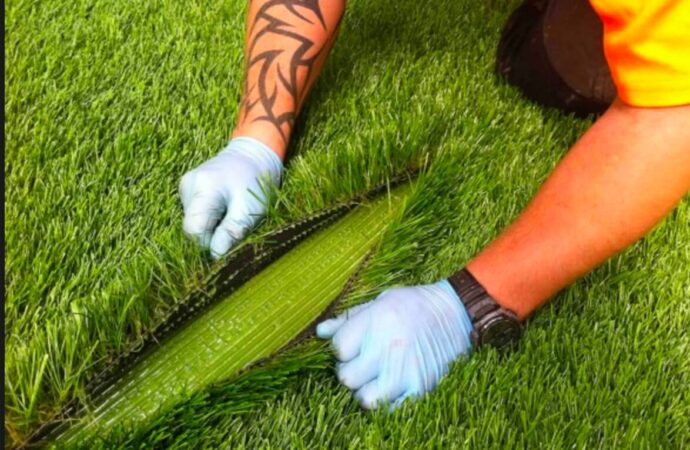 Besides Installation and design, our Synthetic Turf Team of Boca Raton is proud to offer synthetic turf repair to all residents and artificial turf users in the area that need a patch, maybe two, or replace some pieces to make their patios and green areas look stunning again.
Synthetic turf repair isn't common as a great product followed with proper installation at the time it was placed should be able to last for over seven years without any repairs, and even over a decade if proper maintenance—as little as is needed—is provided by the owners or caretakers.
Part of having an artificial turf that will last for so long without any repairs is choosing the right type of activities and foot traffic that will take place in the area where it is meant to be installed.
Not all turf lasts the same nor offers the same appearance or look. Our team is a professional in choosing the best option for your green area, but this is just one of our services. Focusing on repairs, we are able to handle small to large damaged areas where some glue and tape can fix the issue, while other situations may need a new piece to be placed.
How Do We Determine the Best Course of Action?
By assessing the area and making sure we determine the damage and what caused it in case you are unable to let us know what happened to the turf and piece.
Burned and torn areas are often repaired with the same method: cutting out the damaged piece and replacing it with a new one of the same turf type or, even better, look exactly the same.
If you installed the artificial turf with our team, you must have a few pieces or leftovers of the turf or grass that was placed on your property. We worry about leaving some of them with our clients since they work very well when used for repairs, be they small ones or not.
Since synthetic turf can last for over 15 years even while being used, imagine pieces that are stored properly. You can save a lot of money by keeping a few of them when we provide some or even all of the leftovers while finishing any installation.
If you had your artificial turf installed with another company and no leftovers were left to you, we will handle the repair with a new piece that our team will have at hand during the first visit—in most cases.
For some parts that are torn or slightly discolored or damaged, taping the piece, gluing it, or maybe adding some color with earth-friendly and non-toxic products can solve the problem. It won't take long to have your turf repaired regardless of what method is needed.

When Should You Contact Us for Synthetic Turf Repair?
Most clients hesitate to get in touch with us when the damage is hard to notice, and this is actually a good decision.
If the damage isn't affecting the appeal or look of your turf and landscape, there's no need to get in touch with our team right away. However, if you aren't happy with how it looks, you're noticing a change in its performance where it was damaged, or maybe it's been a while since it was burned, torn, or the incident took place, you want to reach out.
Waiting too long to repair the damage affecting the turf's appearance or functionality can end up affecting a larger surface area. Thus, you want to get in contact with our team if you can tell where it has been damaged and understand that burns are part of the most serious cases.
We know many don't want to reach out right away or even when they notice the difference due to their budget or being able to afford the repair. However, we care about you and your satisfaction in every possible way.
We will let you know about the repair cost, if it is possible to lower it with different options we give you, and start working on the damaged area only when you allow us to. We won't proceed before we have discussed the matter and given you all the alternatives.
Unlike many professionals, we like to keep it simple and do our best when possible. Still, if you feel you're unable to afford the best solution and repair alternative, we will be happy to comply with what you can pay or even want while making sure the repair is unnoticeable.
Can We Repair Synthetic Turf for Golf Courses & Playgrounds?
Short answer, yes. Our services and repairs can be performed in any area and space they are needed. Golf courses tend to represent a challenge due to how smooth the turf must be, and being able to find the perfect type or piece when replacing one is a hard task when we aren't the ones who installed the original one. Still, it isn't impossible, especially if you have leftovers stored.
For playgrounds, we love taking part in these repairs since this helps us guarantee that children will be safe and enjoy a stunning space worry-free.
Whether small or large-scale projects and repairs, our Synthetic Turf Team of Boca Raton professionals can handle it and more, make sure to give us as many details as possible the first time you contact us, and we will schedule an appointment to assess the damage and come up with all the possible solutions.
Most of the time, we are able to get the job done as soon as we visit and you allow us to proceed. If not, we will come back and have everything ready the same day—if you contact us or we visit in the morning—or within the next 24 hours based on business hours or your availability to give us access to the area.
Repairs that involve large areas or several pieces may take longer, but we aim to finish everything within 2 to 3 days at most and leave everything clean for immediate use.
Contact us to request more information about our repairs and how our team can help you.
Below is our list of additional services: