Commercial Synthetic Turf Installation Services for Boca Raton Residents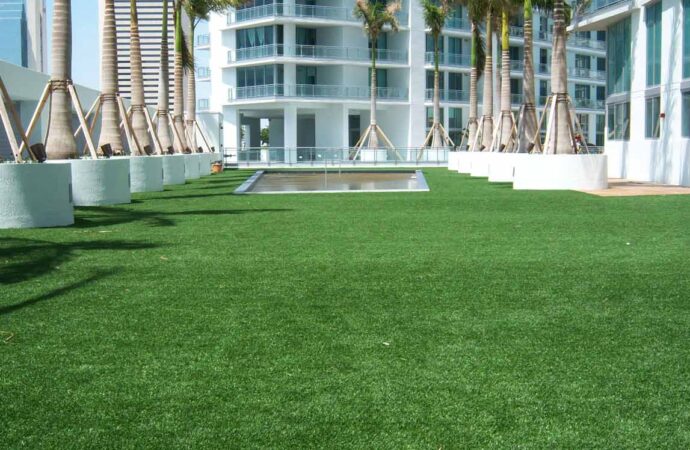 Having a green area for your employees, customers and visitors is never a bad option. In fact, it can boost workers' morale and help customers feel a bit more connected with your business and have a good time whenever they choose you over your competitors. Synthetic Turf Team of Boca Raton offers you a wide variety of artificial turf that can be given to you through our commercial synthetic turf installation service.
What we do is simple: guarantee you have a green space in your commercial property where you won't have to worry about the high volume of foot traffic nor provide frequent maintenance, which is often a high expense for every business.
Synthetic turf offers great benefits to all its users, including saving money on water bills and all the natural maintenance grass usually requires. In the short and long term, you are able to get a return on your investment and have a surface that is always looking clean, neat, and has great support and durability.
Since not all spaces are the same nor businesses, we will need to assess yours so we can take measures and design the landscape and how the turf will be installed. From there, we will give you insights into the design, how it will look, and the products and materials we will use, and wait for your approval once you receive all the information.
Some companies contact us to only have simple artificial turf installed, but if you are having issues dealing with how your patio's, garden's, or green area's aesthetics are and the look it offers, we can provide full guidance in the matter and ensure that extra elements are added or listed for you to work on their adding if you decide to work with another company that offers specific décor and landscaping services beyond ours.
How Much Will It Cost to Install Synthetic Turf for Your Business?
Everything depends on the size of the worksite and the type of products and materials used. Usually, an average or small green area of 100 square feet can cost about $1.000 to $2.000, but this depends on your budget as well as the final type of turf you decide to install based on our recommendations for your needs and goals.
For medium-sized areas, the price rises to over $3.000, and large areas can reach the $4k and $5k marks.
For some businesses, we understand it can be a great investment not many can afford in the beginning. Nevertheless, one of the beauties of using artificial turf over choosing the natural one is how you can get a return on this investment and continue to save money in the long run.
Since natural grass requires a lot of work, maintenance, and water, it is common knowledge how much people are bound to spend not only on water bills but also fertilizers, chemicals, and paying for regular maintenance.
Meanwhile, our synthetic turf needs to be watered once or twice a month, fertilizers are not required chemicals, and you won't have to hire several people to deal with its maintenance as tending to it is required once or twice a week and very little needs to be done.
Also, we can help you find an option that meets your needs and remains affordable based on your budget.

How to Know What's the Best Synthetic Turf for Your Business
This is determined by our team of experts once they listen to your answers to some of these questions—if possible, all of them—:
How many people will use the green area on average?

Do you plan to have any events or activities that involve high impact (running, jumps, playing soccer, and similar ones)?

Will pets be allowed in the area?

Do you wish to install a playground or some equipment for children?

How much can you afford, or are you planning to spend?
It is crucial to have at least half of the answers, and we will help you come up with them if you are in doubt or not sure about all the steps you wish for the space. Foot traffic, pets, children, and specific activities are the most important variants of this.
We must know how many people will be using the green area so we can provide or choose a synthetic turf that won't wear out easily because of the foot traffic, and for playgrounds or specific activities of high impact, we can recommend turf that offers impact reduction and extra benefits for those that love playing.
In the case of pets being allowed in the area, rest assured all our products are pet-friendly, but some will work better thanks to how resistant the fiber of the grass is to their brute pull.
These questions and information can give you a clear idea of what you want to look for, but with so many options in the market and what we offer, it is hard to determine what is the best in terms of performance, longevity, and durability. This is when our team starts to work.
Synthetic Turf Team of Boca Raton will guide you through this process during the first visit since we need to assess the space of your business or commercial property, determine what's the design you want for your landscape, and work with the previous questions to bring several options to the table.
We will be happy to help in determining every detail of this process, and once you have chosen the artificial turf from a short list of options that is based on considering your budget as well, we will proceed with the installation as requested and needed.
Remember, we can have your artificial turf installed within a day or two; large spaces will require more time, but you can let our team know in advance whether you need to meet a deadline or have a special event waiting for the turf to be put in place. We would love to set a better timeline and dedicate more workforce to your project as needed.
Below is our list of additional services: