Artificial Golf Turf Installation Services for Boca Raton Residents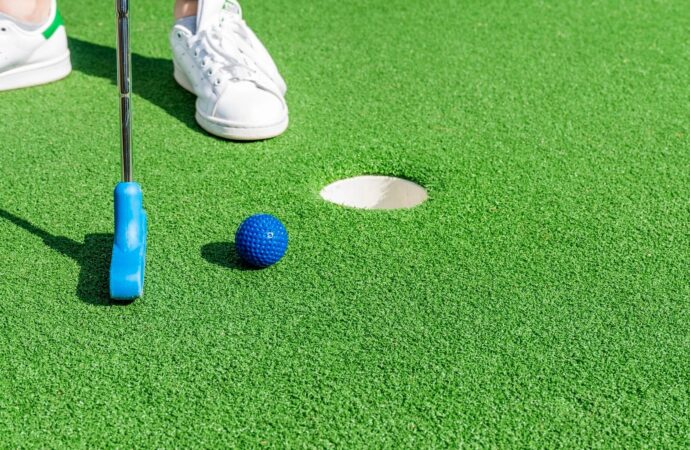 Maintaining golf courses can prove to be a challenge not only because of the holes and how you have to make sure everything is clean but also because of the simplest yet most crucial element in them: the turf. High-maintenance, expensive, and a lot of watering describe all turf in the golf courses quite well, but for those in Boca Raton and surrounding areas, we have an alternative, artificial golf turf.
Synthetic Turf Team of Boca Raton has worked with several companies and owners of golf courses that needed to install this artificial option in order to reduce costs, save time, and make sure their areas were ready for use all day, every single day.
Unlike popular belief, most golf courses are not covered in natural grass or turf, at least not entirely. Artificial turf is a great option for them since it helps to reduce watering and time of maintenance while helping the planet and preserving it.
However, it is important to choose the right type of artificial golf turf so it can last for over ten years. The main requirements for any golf course in Florida are:
Heat block.

High-quality fibers—they must be made of nylon or polyethylene.

Earth and pet-friendliness.

Comfort and low maintenance.
Our products are made with top-quality materials, and we can guarantee that all our alternatives for practicing golf and covering an entire golf course meet the main standards. Additionally, we add some features that can help players with their game.
Is It Expensive to Have Artificial Golf Turf Installed?
Yes and no.
We don't want to say that installing this artificial option isn't expensive, but we must make it clear that it is due to the extent of the golf course and all the areas and spaces where it is required.
Overall, synthetic turf isn't expensive for patios, yards, parks, and common green areas. However, golf courses are at least 1,000 square feet—and this would be considered a small one if it is for tournaments and meant to be the main area in the city—thus, it takes a lot of work and product to get everything green and clean.
Regardless, it isn't expensive because it ends up paying itself. Golf courses require a lot of watering when natural turf is present, and this is often the main reason why management and administration spend so much money: the water bill is quite high, and there's no need to mention how you are not helping the planet.
Meanwhile, artificial golf turf can be watered once a week or every two weeks—some new technology and types can be watered once every three weeks even.
Also, maintenance and tending to every area aren't required, and you can focus resources and people on other activities in order to offer a better service inside and outside of the course.
With all the water you are saving, the fewer hands you need to tend to the grass, and the equipment you don't have to install to keep the maintenance, you can have a lot of money in the next 2 to 3 years and profit more from the users and players visiting your golf course.

Is Our Service for Large & Official Golf Courses?
We can install artificial golf turf wherever it is needed, requested, and wanted.
We offer a wide variety of services, one of them being putting greens and helping people have some special areas in their patios or properties to practice and improve their game. For this, it is natural to install artificial golf turf since it isn't only a matter of saving time and money but also the quality, feeling, and type of surface.
Our artificial golf turf is designed to offer the same experience as when you prepare the grass or natural turf on the course and allow players to play without any issues.
There is a lot behind the quality of the turf and how it influences the entire sport and experience. Thus, do not underestimate how crucial and different it is to use regular synthetic turf and the one meant for golfing purposes.
With this in mind, artificial golf turf is often requested by homeowners or business owners that want a small area in their green spaces to include a hole or mini golf course to enjoy alone or with friends. Some also prefer having this type of turf installed for aesthetical purposes as they enjoy the appearance it offers to the landscape.
We want you to know with all this that we don't deny your request. Even if it isn't for a golf course, you can have our golf turf installed in your patio, yard, and even garden as requested.
What Characterizes Our Synthetic Golf Turf?
The materials it was made with, all features and benefits it offers.
Besides being the perfect option to have a clean game and even surpass having natural turf, it offers heat block and liquid drainage, which means that rain won't be an issue front now on as water will drain way faster and allow you to play in a shorter period of time compared to waiting for the natural turf to be dry enough to resume.
This artificial option is also resistant to all weather conditions, meaning you won't have to worry about storms or any natural disasters. We mention this because we have been asked several times whether the turf will "fly away" or not, being the answer a 'no.'
Every piece is earth-friendly, pet-friendly, and non-toxic. You can bring your kids with you and even let them play in the safe areas and around you while you play. You will have a surface that even offers them impact reduction, meaning their falls or little accidents won't affect them as much as when occurring over natural grass.
Feel free to ask our team for more information and details about this turf based on your needs and preferences. We will take the time to share our knowledge and let you know which one is the most suitable for your circumstances and place.
Below is our list of additional services: