Pet Turf Installation Services for Boca Raton Residents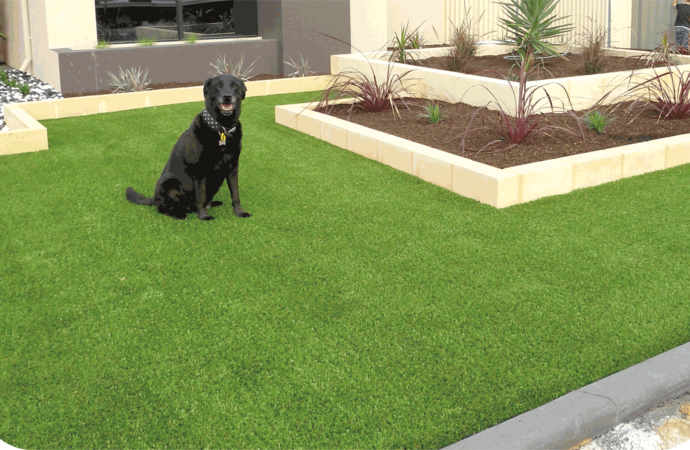 Letting your pets free and allowing them to run all day long can come with a high price since their muddy paws and the insects or bugs they can pick from the grass are often an issue and add to the work you have to get done, plus their potential health issues. Synthetic Turf Team of Boca Raton offers you pet turf installation to open a new adventure and opportunity for your pets in your patio or yard.
Our goal is to provide you with the best quality turf in the market so you're able to enjoy a green area where you can have your pets running all day and even let them take a nap on your patio without worrying about how hot the surface is.
The beauty of using our pet turf lies in how it offers heat block, liquid drainage, and the perfect softness of natural grass, so dogs won't even notice the difference until they try digging holes, which will be prevented by how the artificial turf is designed and the fact it isn't the real thing in this aspect.
Before you take the step and decide to install this turf, keep in mind it is important to choose the right type based on how many pets you have, what type of pet they are, and if you intend to perform more activities in the space where it will be installed.
Some pet turf is better than the regular standard in the market, but it can also be more expensive, and some people may choose to stick to a regular one considering their needs and how hard their pets like to play.
Our recommendation: assess the area, determine your needs, and choose the right turf based on your budget as well.
Does It Take Too Long to Have Pet Turf Installed?
Not at all. There isn't any difference in working with artificial grass or turf compared to this particular type of synthetic product. The installation is the same, and the average time will vary depending on the size of the worksite, but the estimate is similar to any other synthetic turf: 1 to 3 days.
For small areas or patios, a day or even half a day will be enough. Meanwhile, medium size spaces will take the full day or two days mark, and larger areas go for the three days deadline.
We will be able to give you a timeline once we are able to assess the space, take measures, and finish the design for the turf and landscape. After all, it isn't only about placing the pieces of pet turf but also making them look beautiful, and your area can be functional, pet-friendly, and perfect for any events or other plans.
Regardless of the type of pet turf chosen, the estimated time won't change as it isn't about the turf itself but always the size of the terrain or patio.

Can We Install Pet Turf in Parks or Public Areas?
If you're trying to acquire it not only for your residential purposes and your pets but also for other people's pets and enjoyment, you can rely on us. Synthetic Turf Team of Boca Raton handles both residential and commercial projects, and this includes installing pet turf where it is needed.
We have helped many of our clients install it in dog parks, inside their business areas for employees or customers to have their pets, and in larger spaces such as public parks and more green areas in Boca Raton and its surroundings.
We love taking this challenge since it allows us to experience a stunning result where dogs and all types of animals can play.
For projects of this size or magnitude, we usually focus on fitting and satisfying different needs. First, make sure that the turf will last for over a decade, even if more pets start playing on it in the long run. Secondly, using all earth and pet-friendly materials for the pet turf installed, so it is safe for them to spend all day.
Finally, our team will provide repairs and maintenance as time goes by, but since our products are mostly manufactured by us or our reliable and qualified partners in the industry, we're confident that our needs post-installation will be barely needed.
Regardless, our doors are always open and ready to take on the projects that come after your installation.
What Makes Pet Turf Different from Synthetic Turf?
Some products in the market aren't pet-friendly, even when standards and requirements have changed over the years. A few companies continue using different products, and not all of them comply with being the right choice for dogs, cats, or other animals.
In our case, all our synthetic turf and grass are pet-friendly, meaning they are non-toxic, and animals can enjoy the feeling without worrying about any health problems in the future due to questionable materials.
What makes the pet turf we offer different are the additional benefits and characteristics:
Heat block. Your dogs can lie down all day, even when the sun is at its peak.

Liquid drainage. You won't have to worry about watering the areas where they do their necessities.

Low maintenance. It requires little to almost no maintenance, even when pets play continuously in the area.

They won't notice the difference with natural turf as the feeling, softness, and appearance of pet turf are just the same as the real thing.

You can let them pull, dig, and use brute force all they want. This will barely damage the turf, and the product should last for over five days with barely minimal repairs; sometimes, even none is required.
Of course, depending on the specific type of pet turf chosen, more benefits can be added to the list, and the variables of durability and longevity are enhanced or reduced by a bit.
Our team will make sure to offer all the options available for your pets and allow you to choose a product that won't disappoint and won't end up making you spend more money than needed. Although, you must keep in mind that pet turf ends up paying itself with all the water and time you are able to save.
Below is our list of additional services: