Playground Synthetic Turf Installation Services for Boca Raton Residents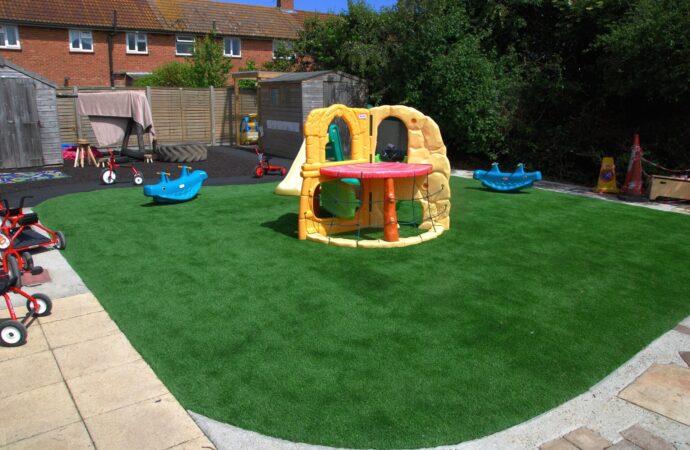 It is important to ensure that your kids are safe whenever they go to the playground to enjoy some time with others or use the equipment. However, this doesn't rely on what you do with the area most of the time. If you are a company or entity involved in ensuring their safety, you will love our playground synthetic turf installation service as our company Synthetic Turf Team of Boca Raton has worried about guaranteeing the top quality products that will prevent kids from getting seriously hurt after a fall or common accident in the space.
Although several options are available for playgrounds, not all of them offer safety and a great appearance at the same time. Besides, if you choose the perfect type of synthetic turf for the space, you can forget about the usual high maintenance the real thing or other surfaces require.
In the short and long run, saving time and money on its maintenance is possible and will guarantee that every child playing can do it while allowing parents to feel a bit at ease when they let them use the playground's equipment and the entire space.
What Is The Best Synthetic Turf for Playgrounds?
Everything depends on:
The volume of foot traffic.

Type of equipment that will be installed.

Activities that will take place.

If pets will be allowed in the area.

The size of the playground and how much time you plan to invest in its maintenance.
In terms of choosing the right synthetic turf for this type of space, it isn't about working with the one that is considered the best in the market but rather for all the previous requirements and also what you can afford and prefer in terms of how the turf looks.
Synthetic Turf Team of Boca Raton offers you a wide variety of options for playgrounds from where you can choose artificial turf that will look more natural but offer less support, some that will be the opposite, and others that can provide safety and aesthetics at the same time.
This is why it is crucial to assess your space, take measures, understand your needs, and come up with a design. Next, it is possible to determine the right turf based on all the requirements and also on your budget if you are unable to afford one of the alternatives given or the main one.
Do not worry; we care about how much you are open to investing in this project, and we can assure you that regardless of what you do for the playground, you won't regret your decision as any of our artificial turf options for playgrounds includes the most important aspect: impact reduction and heat block.
This will guarantee that your children and everyone using the playground will be safe and all harm they could have is reduced by a lot.
However, if you wish for a customized option that can meet all your needs and expectations, make sure to get in touch with our team, who will start working on your request in no time and even provide a full design of how your playground can be and look.

Will Your Synthetic Turf Be Easily Damaged?
Not at all. Unlike common belief, it is quite hard to damage artificial turf as long as the right option is in place and ready to provide great performance based on the activities taking place in the space.
Overall, synthetic turf is long-lasting and durable thanks to how it is built: with nylon or polyethylene fibers that will prevent burned areas and missing parts and offer a clean look while continuously serving well with support and safety.
For children that love trying to pull out parts of the turf, this won't be an issue since parts of the artificial turf aren't easily pulled or torn, and it will barely be noticeable unless over six years have passed and the same area remains to be the focus of more children.
For weather conditions, our synthetic turf is resistant to sun, rain, snow, and natural disaster that could hit the area—with very few exceptions.
Making sure that your turf will last for years and won't require many repairs is part of our job, and whenever we install a new one for you, we will provide you with some guidelines for regular maintenance that will maintain it smooth, soft, and shining just like it was the first day or actual natural turf.
Nevertheless, you won't have to provide frequent maintenance. The goal is to give you some guidelines, so whenever you go over your turf on the playground and tend to it once or twice a month, you will have the desired result: a stunning and safe surface for not only kids but also all users and parents in the area.
In case you are unable to deal with some damaged parts or pieces, we will always be available to perform small repairs and provide maintenance as requested. Though, we are confident this won't often be required even if your playground is one of the most used in Boca Raton or other nearby cities.
How Can You Request Our Playground Synthetic Turf Installation?
All it takes is a call, email, or visit to our facilities. We are available all year round and ready to help you with every step of this process.
By this point, you should have a good idea of how we handle it and what we are able to do with you, but to provide a quick overview, this is what you get from our service:
Assessment of your playground.

Professionals designing your area.

The perfect turf for safety and aesthetics based on your needs.

An estimate before we start working on the installation.
Feel free to call us within our business hours and let our team know how we can proceed. Since we have a wide variety of services, please start by mentioning how you need us for your playground in particular.
Below is our list of additional services: