Synthetic Turf Installation Services for Lighthouse Point Residents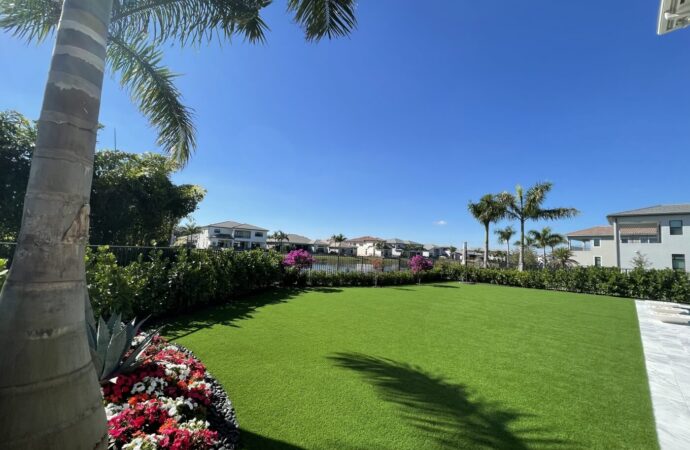 Being able to have professionals working on your garden, patio, golf course, or space you want to turn into a green area is a blessing. Since this isn't possible unless you have them near you, we have worked hard to expand our services and offer all our solutions at Synthetic Turf Team of Boca Raton to Lighthouse Point as well.
Although Boca Raton is clearly our main location, we can help you with your artificial turf and grass projects, installation, repair, and maintenance if you are in Lighthouse Point, where most homeowners and commercial owners worry about the look of their green spaces.
Our services for those in the city start with assessment and guidance regarding what's the best type of artificial turf for their project and space. Next, we will take all measures and start designing how the turf will look once installed and what the final result should look like.
If you allow us to perform our service and provide you with everything you need, we will be able to set a date and, of course, the estimate for the job will be given to you beforehand so you can see all the expenses and even negotiate the price with us based on your budget—if you haven't let us know before we deliver the quote.
Is It Worth Installing Synthetic Turf in Lighthouse Point?
No matter where you are or live, artificial turf and grass are always great options since a high-quality product should be able to resist all types of weather. Ours is made with the highest quality materials, and we make sure to manufacture 80% of our products available in order to guarantee longevity, durability, and performance.
If it hasn't been manufactured by us, we always rely on our close partners to provide us with artificial turf that meets our standards:
Earth-friendly.

Pet-friendly.

Cost-effective.

Top quality materials.

Non-toxic materials used.
When you install artificial turf or grass on any lawn or ground in Lighthouse Point, you are bound to enjoy a surface that is soft, durable, and less time-consuming in terms of maintenance, and you will spend less money since watering it won't be needed often. In fact, you can water it every 2 or 4 weeks without worrying about its longevity and color.
Thanks to the latest technology in synthetic turf, we have several options that offer heat block and great liquid drainage that is perfect for the weather in the city.
How to Get Our Synthetic Turf Installed
It only takes a call, email, or visit. We are open all year and ready to serve you in the best possible way.
Besides having our professionals work on the synthetic turf installation you need, we offer additional services or main ones based on what your project and needs are about:
Putting greens.

Synthetic turf repair.

Schools synthetic turf installation

Pet turf installation

Artificial golf turf.

Work with athletic fields.

And more.
Just give us a hint of what you need, and we will be happy to be there for you!
Below is our list of additional services: