Synthetic Turf Installation Services for Deerfield Beach Residents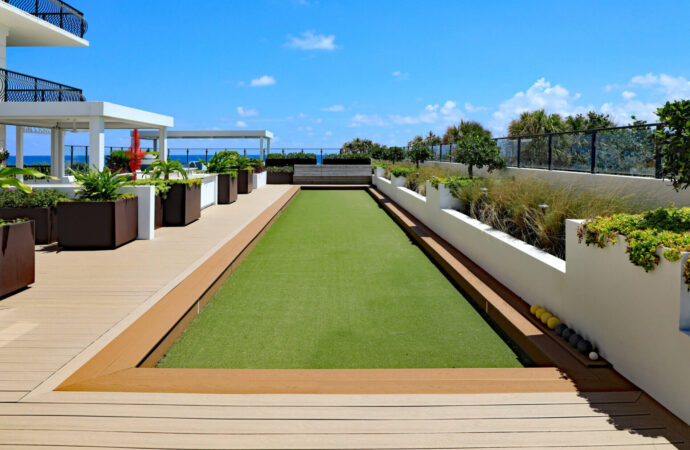 Synthetic Turf Team of Boca Raton worries about offering its services to more areas than the main city. Therefore, we are happy to let all Deerfield Beach residents and companies know that we can help them with all their synthetic turf needs, projects, and installations to finally enjoy a green space of their own.
Florida is a paradise when it comes to beaches and green areas since palms and sand are everywhere, making all residents happy and comfortable we have spaces where they can connect with nature and enjoy their free time.
Our goal is to be part of this adventure by providing alternatives to the stunning yet time-consuming and expensive natural grass and turf that covers many areas in the city.
Utilizing synthetic turf can be one of the best decisions homeowners, business owners, and the council itself can make based on how cost-efficient, stunning, and time-saving it is.
Unlike natural grass and turf, it doesn't need to be watered several times a week, and thanks to its longevity and durability, you can forget about replacing it or using fertilizers to make it look green all year round since the materials used to manufacture the fibers and final product are of the most durable in the market: nylon or polyethylene.
Many spaces in Deerfield Beach have, in fact, artificial turf installed to offer visitors and residents a soft surface they don't even notice isn't even the real thing.
What Benefits Can You Get from Installing Synthetic Turf?
Artificial turf will look good all year round since it isn't like natural turf, which depends on the weather, how many times a week it is watered, and the use of chemicals to keep it shining and alive.
Additionally, it can be repaired quite easily to get rid of all damaged pieces and areas. For example, if the turf is burned or pulled out by some people or after pets have played in it for years, it is as simple as replacing the area with a new piece. We only need to cut the damaged piece and install a new one that will blend perfectly with the existing turf.
Since it isn't real grass, it doesn't need watering every two days or even every day. Instead, once or twice a month is enough, and the materials our company uses to manufacture our products are pet-friendly, earth-friendly, and keep the prices affordable for all future users and clients.
Finally, you will get a return on your investment in the next 3 to 5 years. Artificial turf ends up paying itself since you save money on your water bill, time by not having to tend to the grass every day, and you won't need chemicals and fertilizers anymore.
For resorts, commercial areas, and properties in Deerfield Beach, artificial grass is more than just attractive. Meanwhile, homeowners love the idea of having turf that will look stunning with little effort.
Make sure to contact our team, and we can guide you through the process and get your installation, design, and any repairs done in no time!
Below is our list of additional services: