Synthetic Turf Installation Services for Highland Beach Residents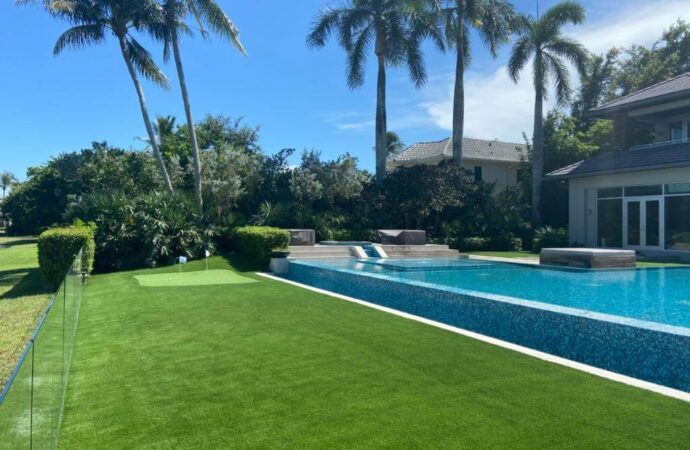 At Synthetic Turf Team of Boca Raton, we are proud to announce how our team and professionals can help you install, repair, and maintain your synthetic turf in Highland Beach as we expand our reach and the cities we serve in Florida.
We understand how difficult it is to find reliable experts that can get the job done and not only offer the product for you to install on your own—which is often a challenge—or offer poor solutions that don't even include helping you design and visualize the final result.
Our goal with the expansion in locations is aimed at offering more solutions, and products homeowners, companies, and all residents can rely on whenever they have a project that requires high-quality synthetic turf or grass that will last for over a decade.
That being said, we will help with more than the basic synthetic turf installation in residential complexes or homes and commercial spaces such as business areas and buildings. We can help you with golf courses, playgrounds, schools, and more areas.
All we will need to do is to set an appointment with you to visit the space and take care of the assessment and measures to provide an estimate of the project and how we will proceed to make it happen.
Additional Services Available in Highland Beach
Synthetic turf repair and putting greens are part of the most requested services on our list.
Repairs aren't that common, considering synthetic grass is designed to last for over 15 years, and the damage they receive is often minimal, even when it has been in use for over five years.
However, this doesn't mean they don't take place once in a while and that having professionals is crucial to ensure the patching or repair won't be noticed and will last for years to come.
We have experts that will assess the damage and come up with a solution based on what is needed: patching the area, installing a new piece, replacing more than one piece, or maybe offering a new synthetic turf due to the condition of the existing one.
Overall, small repairs can be solved with some tape, adhesive, and turf glue. If not, cutting and replacing the damaged piece with a new one or even leftovers of the turf used for your installation can be done.
On the other hand, putting greens is a great option for golf fans and players who want to have a special area in their homes or properties to practice and improve their game. We will design a small or large area based on your own space and make sure that all elements are in place: artificial golf turf, holes, small flags, and much more.
The idea is to make you feel like you were on the actual golf course and allow you to enjoy it with many others if you wish for it.
To learn more about our services and have our team help you in Highland Beach, feel free to contact us anytime and request more information about other solutions, such as pet turf installation and commercial synthetic turf installation, to name a few.
Below is our list of additional services: