Synthetic Grass Installation Services for Boca Raton Residents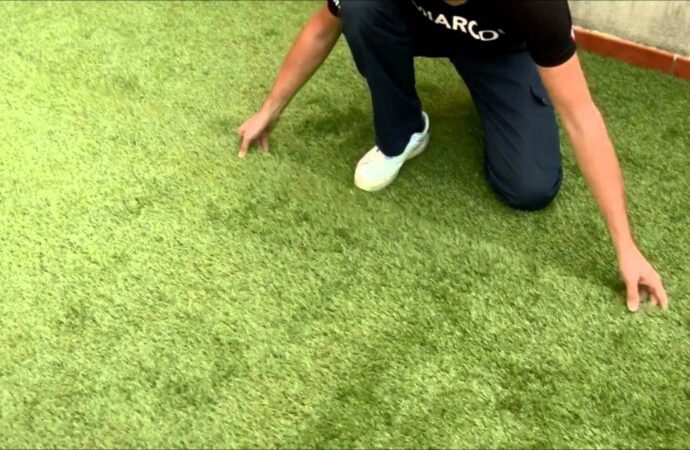 Whether natural or not, turf and grass cannot be classified as the same type of green surface. While turf offers a neat and clean surface where high-impact activities and high-volume foot traffic won't be an issue, the grass is meant for—mostly—landscaping purposes where the appearance and looks matter the most. Thus, when contacting Synthetic Turf Team of Boca Raton, let us know what your needs are so we can determine whether you want synthetic grass installation or not.
In most cases, our clients come looking for a surface that is beautiful and practical at the same time since their patios need one that can take all the running and playing or their children or pets while still looking neat for visits and special events.
We have good news for those trying to get synthetic grass instead of turf: the latest technology can offer something similar to the above but with some variations.
Artificial grass is meant to look just like the natural or real thing, which allows you to design the perfect landscape without worrying about how your surface will look and if people will notice a difference while they step in or have a closer look.
What worries most people next is whether it will be able to pass the durability and longevity test, which we can guarantee in particular thanks to our products and how we manufacture them for anyone in Boca Raton and surrounding areas.
Although synthetic grass will always be known for how it can deliver great looks but offer less shock reduction and safety when performing high-impact activities, it can be improved to the point of allowing a balance between both.
Our goal with this service is to guarantee you can have a stunning surface with artificial grass while still having a safe space that won't lack in safety and support.
When Will We Recommend Our Synthetic Grass Installation Service?
Whenever you have a green area meant to attract people and shine with its beauty, we recommend having grass over turf. The feeling and look of synthetic grass are noticeable when compared to artificial turf, even when you cannot tell the difference between the natural option in both cases.
Turf's leaves aren't long, and you can notice how the surface is just like the one you can see at stadiums or fields. Some types and variations can offer you a similar look to grass, but synthetic grass is what will allow you to imitate the natural alternative to the point of forgetting that yours is "fake."
Now, we would choose artificial grass over turf in spaces where fountains or the landscape are important because of how looks and aesthetics prevail over functionality or support. Most people won't be running in a garden full of flowers, trees, and delicate plants, which is why grass will be the perfect option and complete the natural look.
For homeowners and business owners who wish to design a green area where looks are more important than making the surface a running field, we recommend going for the grass option.
Landscaping is an art, and we will provide some details and guidance on why it is important to pick grass over turf, even when you are working with the natural option of any of them.
Thanks to our products and how we have manufactured them over the years, we're confident we can provide you with the best type that will have everything you need: the feeling and look of authentic grass while adding extra benefits such as heat block, longevity, no need of fertilizers, and little watering and tending needed.

We Install Your Artificial Grass Smoothly & In No Time
Your projects, daily activities, and events won't be delayed, considering how fast our team works and how it is possible for us to come up with a design in no time based on your needs and what you request.
Our first step is to know more about you and what you need and want. Do you want the entire space to be covered in the grass? What about having a landscape design for future projects? Maybe you are trying to have our work in the basics and then move on with another designer for the entire space?
Our role is to fulfill any request regarding this product and installation, and based on your main and specific request; we will work around it. Nevertheless, we want you to know our professionals at Synthetic Turf Team of Boca Raton are able to offer you the perfect design for your landscape.
Although this isn't part of our main functions, we are able to work around what would look best in your house, property, or lawn so you can have a design we can complete for you, or after we have installed the artificial grass, you can continue with it with other experts in terms of installing fountains and different landscaping elements.
That being said, we will work hard in coming up with the process and let you know how the installation will take place, how long it will last, and why the synthetic grass we recommend is the best option among all the alternatives available, which we can help you fit with your budget.
Once you approve our design and installation, we will proceed and finish the job within 1 to 3 days, based on the size of the worksite. For 100 to 300 square feet, we are able to finish in a day, while medium-sized areas from 400 to 700 square feet will require more time, and larger ones will reach the three days mark.
Everything depends on the time we need to prepare the lawn or if it is needed in the first place.
You can expect our professionals to finish the installation within a day in most cases, and rest assured that it does not matter where it is: your house, business, square, park, or any other space and area.
Below is our list of additional services: