Synthetic Turf Installation Services for Pompano Beach Residents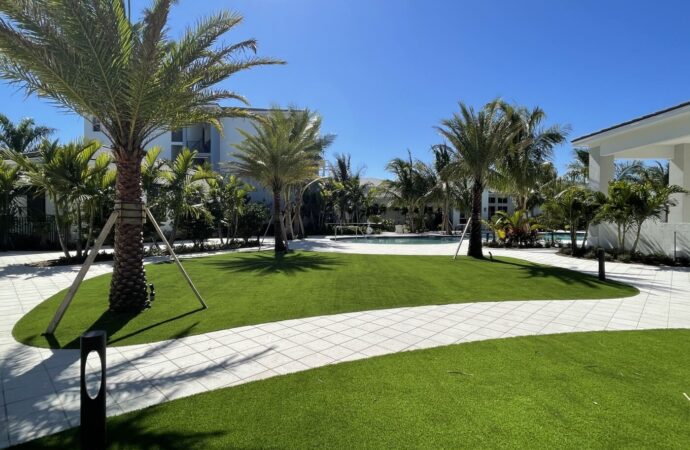 Part of the beauty of Pompano Beach lies in how the green turf and grass contrast with the natural areas it has to offer: beaches, parks, squares, and places where you can connect with nature. Synthetic Turf Team of Boca Raton has been part of making the city even more beautiful by providing top services for synthetic turf installation and artificial grass over the past ten years.
We want to make sure that people overall can save time and money when dealing with turf and grass, and for it, we know they don't need the real thing but rather the synthetic option since it doesn't require much watering, fertilizers are out of the list, and keep the turf looking fresh and beautiful requires very little maintenance.
Unlike what many believe, most parks, patios, golf courses, and green spaces in Pompano Beach aren't covered in natural grass but are somewhat artificial. If some people are still relying on the real thing, it is a matter of time before they notice how they are even able to contribute to the planet by getting rid of natural turf or grass.
Our role is to provide all available options and types so that residential synthetic turf, commercial synthetic turf, and artificial golf turf installations are possible. The surface is soft, safe, and cost-effective for its users and owners.
Where Does Our Duty Start?
In providing guidance and recommendations about what type of turf is better for your space and project. Of course, not all clients will contact us for artificial turf installation but rather repairs, maintenance, and similar services. If you qualify for any of the latter, you are free to rely on us for any issues and needs you have besides installing a new green surface.
However, when you reach out to have your turf installed, keep in mind that our team will start with the assessment and the design. We will go over your lawn, determine what's best for your needs and vision, choose all the products we must use, and come up with a design that satisfies you and makes you happy.
Once it is done, we will offer you an estimate and wait for your approval to start the installation.
Our team only manages timelines and deadlines once we grasp the project well and know how long it will take our professionals to get it done.
Our duty doesn't end there whatsoever. Our team provides any repairs, maintenance, and assistance you require to have your synthetic turf shining all year round. We're excited to help you with this, even if you did not install your current grass or turf with us.
We Are Open & Ready to Serve
Feel free to contact us and let us know you are from Pompano Beach so we can send our experts and get started on your estimate and future project.
Our first visit for assessment is entirely free, and you're not obligated to accept our service after we have provided the estimate based on what we see you need and want.
Let our team do their job, and if you choose us, you won't regret it once you get to see your patio, garden, or green area looking stunning and safe for the years to come.
Below is our list of additional services: