Athletic Fields Synthetic Turf Installation Services for Boca Raton Residents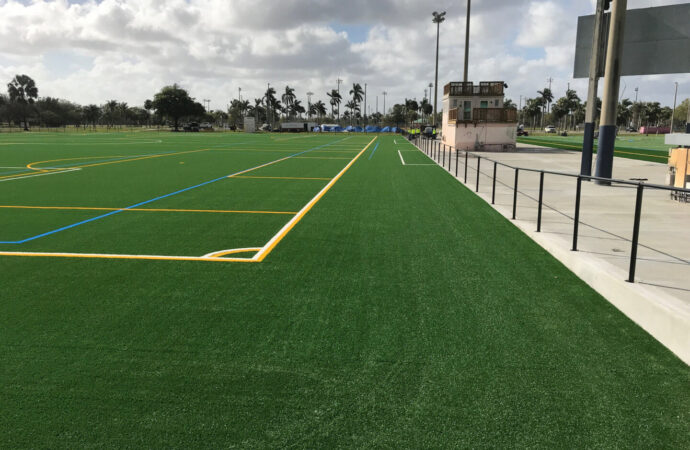 Guaranteeing that athletes and players are able to practice and play without worrying about accidents caused by the surface or ground they are performing in is key for all athletic fields and those in charge of their maintenance. Synthetic Turf Team of Boca Raton helps you by offering athletic fields synthetic turf installation, so all those on the field are able to rely on a surface that looks, feels, and performs just as they wish and need to.
The difference when relying on synthetic turf instead of the natural option when working and having athletic fields lies in how well it will perform with frequent and common activities that usually require a lot from the surface.
All athletic activities and sports that can take place in those fields can be considered of high impact due to the movement. Additionally, fields fall into the high volume of foot traffic due to all the users and the individuals that aren't athletes yet making use of the areas.
Having your athletes running over natural turf or grass that is often missing some pieces or has holes due to external parties is unacceptable. Still, it is challenging to maintain the field prepared and ready every day and all day.
The idea of using athletic fields synthetic turf is to:
Save money and resources in tending to the field and this green element every day.

Avoid having to provide frequent maintenance—yes, natural turf is considered high maintenance.

Reduce any damage the field could experience based on all the activities performed or the number of people using the area daily.

Offer athletes the best surface that looks good and also offers extra support and safety while training.
Do Athletes Notice the Difference When Installing Athletic Synthetic Turf?
Yes, but it is a big difference, and you'll be happy they are able to notice it.
Our team works hard to offer artificial turf that will feel soft and comfortable while running and training, and whenever they suffer from a fall or small accidents that are common while practicing, they will have a surface that can absorb most of the impact and prevent any serious injuries compared to the real thing or regular synthetic turf.
They will notice how stable the surface is and how it doesn't wear out even when the field is used every day for long hours.
Synthetic Turf Team of Boca Raton worries about the turf's quality, and since it isn't the same to have the standard option compared to those for athletic fields, we have made sure to use materials to manufacture a wide variety of alternatives that offer basic benefits yet game-changing for the short and long term use:
It won't absorb heat.

Draining liquid will be easier.

Watering several times a week won't be necessary.

High maintenance won't be an issue anymore.

All materials used for its manufacturing are earth-friendly and non-toxic.
The time spent on making sure the field is prepared will be reduced as well, which means athletes and the public, in general, will be able to use it after short periods and besides simple cleaning and making sure no one throws trash in the area, you won't have to deal with more work.
We want to make sure the product meets your needs and standards, and besides manufacturing it ourselves, we handle the entire installation as it can affect the turf's longevity, performance, and durability.

How Long Does It Take to Install the Artificial Turf for Your Field?
Everything will depend on its size.
Regardless of the type of turf we help you choose or you pick for your field, the process of installing it won't be any different. What determines if the project will take longer or not is how large your field is and if you need extra meters for some areas outside of it.
This is why we need to assess the area where we will work and take all the measures you ensure we can give you an estimate in terms of time and price. Once this is done, you can expect our team to provide you with this and more details.
On average, a small field around 100 to 300 square feet will take around a day, while medium-sized ones that surpass the 400 and 600 square feet mark can take as long as two days, depending on the difficulty and the weather.
For large fields that go over 900 and 1,000 square feet, three days are often needed but not always the fit timeline for the project. If we notice, it is possible to speed it up based on your needs and if you're in an emergency.
Keep in mind whatsoever that we do our best to provide a service we enough workers and with the best quality products, so if you have special circumstances or need us to work within specific days or time, let our team know so we can offer the best solution and add more professionals to your project as required.
How We Have Helped Everyone in Boca Raton
We are proud to be one of the few companies in the state of Florida to work with athletic fields and feel confident about the services and installation we deliver and the products and materials used to guarantee top-quality turf.
We want to save you time and money and allow all athletes and users to experience the best surface while practicing and training. For this, we continue improving our synthetic turf technology for those areas and the public in general.
If you need our services, feel free to call or email our team, who will get back to you right away or within the next 24 hours in case it is a message you leave using any of our channels. We can offer other solutions and services based on any extra need you might have.
Below is our list of additional services: