School Synthetic Turf Installation Services for Boca Raton Residents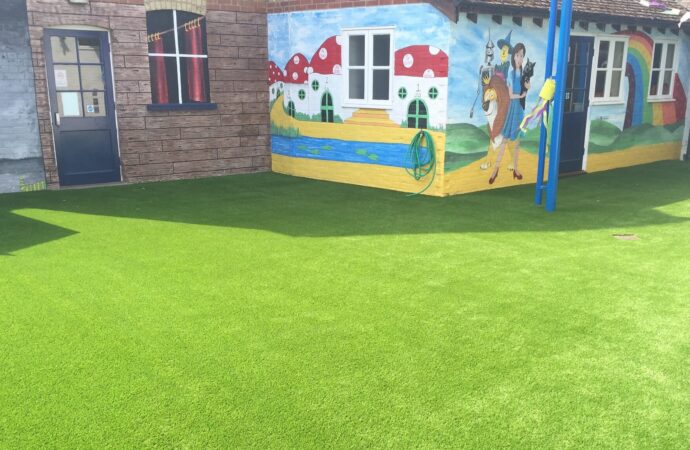 Just like classrooms and every indoor space, patios and yards are also crucial for your student's education and growth since this boosts their connection with nature and allows them to practice new activities such as a variety of sports, spend time with friends while running and playing, and much more. This is why Synthetic Turf Team of Boca Raton is incredibly invested in offering school synthetic turf installation so you are able to offer a long-lasting, comfortable and beautiful surface that complements the area where they will be and can turn into their favorite at the school.
The beauty of relying on artificial turf over the natural one is the fact that you won't have to invest as many resources as with the real thing, and time and money won't be issues anymore as frequent maintenance isn't needed.
In addition, you will have a surface that offers them extra support and will allow each individual to perform different activities depending on what green area they are in and the specific artificial turf you have had installed by professionals.
Our role is to guide you through this process and ensure you understand the importance of choosing the right option in the market and how you will benefit from having this element and working with us.
What Makes Synthetic Turf Good for Schools?
Its durability, longevity, and resistance. Since synthetic turf is made with nylon or polyethylene—some of the best materials to manufacture this product—the fibers will resist damage from all sources, this includes the foot traffic from children playing, students training in their respective sports, and even special events and all the people that will be walking and running over the turf during those events.
Usually, natural turf and grass are unable to stand all the traffic without getting damaged. Empty spaces, holes, discolored grass, and mud everywhere are some of the common issues when relying on the real thing.
Students don't tend to pay attention to the damage they are causing, and it is up to you to come up with a solution that won't cost you too much money, will leave the green spaces ready for them every day, and won't require too much tending when compared with natural turf.
Synthetic Turf Team of Boca Raton offers you a wide variety of artificial turf for schools, and from those, we can provide you a list of what will be game-changing once you decide to take the step to install this feature:
Since our turf includes a heat block, you won't have to worry about heat and how hot the surface is.

Synthetic turf offers great impact reduction and will provide support for all students while they fall, are victims of small accidents, or just go over their daily activities.

Non-toxic materials have been used for manufacturing our artificial turf, which means allergies and similar issues won't be a matter of concern anymore.

It can stand a high volume of foot traffic, which means it will look great and continue providing the same support and safety over the years.

Little maintenance is required, which leads to saving money on water bills, fertilizers, and regular chemicals used to maintain the grass green.

It pays itself. Although synthetic turf can be a large investment, in the beginning, it will end up paying itself within 2 to 3 years, and you will be able to use the resources and money you've been investing in tending to natural grass in other areas of your institution.

We Help You Choose the Perfect Type of Turf
Not all areas in your schools will need the same type of artificial turf, and choosing the right one for each is important as this will help the product perform better in the short and long term.
Although it is possible to choose the most expensive and durable option, we still don't recommend it. There's no need to spend more money and resources when you have a wide variety of options that will offer the same quality, durability, and longevity as long as they are placed in the right areas.
Now, in order to provide you with the perfect turf, we will need to assess your school, determine how much traffic will be in most of the green areas and what your plans are for some of them.
If you are trying to establish a new athletic field, maybe have a garden or next, a general patio for everyone, all those spaces will need different types of artificial turf, and it is crucial that you provide us with as many details as possible so we can come up with not only the right product but also a proper design.
Our team will take care of the entire process of making sure that every piece of lawn is covered and that all your current green areas with natural turf or grass are in perfect shape once we finish. Keep in mind that handling this installation can take between 1 to 3 days for each space. If you are planning to handle your entire school and want us to cover different areas and offer the whole service, we will need a few more days to complete your request.
Don't worry; we will provide the timeline with the estimate once we have gotten over the regular assessment and visit to your school. From there, we will wait for your approval and work around a deadline you want us to meet if necessary or if there are other requirements and needs to may have in mind.
All it takes to open your doors to our team is a call that will be answered within our business hours, an email that will be received, reviewed, and replied to within 12 hours max., or a visit to our offices anytime of the year.
Our visit to assess your property and determine the best action plan for your school is completely free, and you won't have to worry about any fees until we start the actual project.
Below is our list of additional services: