Residential Synthetic Turf Installation Services for Boca Raton Residents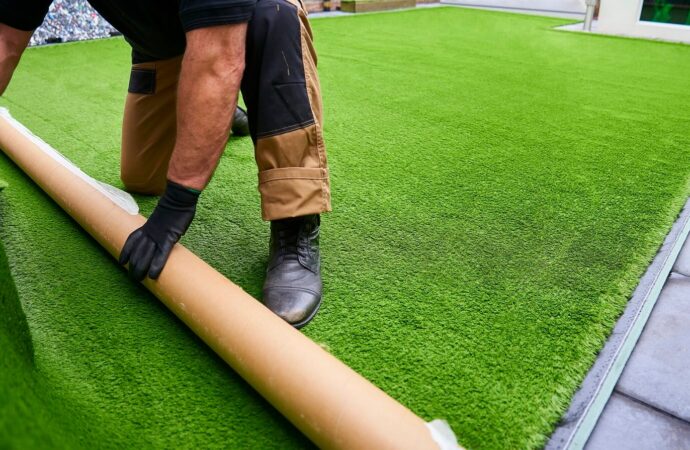 Having a patio or yard where your kids can run and dogs play, or maybe a garden to tend to your favorite plants and flowers is part of enjoying life and connecting with nature. Synthetic Turf Team of Boca Raton wants to help you achieve this unique and green space by providing residential synthetic turf installation so you can have the perfect surface that will look great, feel just like the real thing, and offer great support for all activities.
Although synthetic grass is often chosen for residential purposes, everything depends on what you will use your spaces for, having your kids play, letting your pets run all day, or maybe having events and activities where a high volume of foot traffic is inevitable.
In the latter cases, having synthetic turf is a better option since it offers you more resistance, better support for foot traffic, and high-impact activities, and your patio or green area will still look amazing after years of use.
If you're planning to have a garden, we know that many think one of the disadvantages is not being able to dig through the synthetic turf. However, this can be solved if you make a request during installation or have some pieces cut so you can have your plant and flowers planted.
Our team will work hard to design the perfect space and landscape, so wherever you decide to have or use your green area, we will prepare the synthetic turf accordingly and install it where it is needed.
Synthetic Turf Is Worth It Even If You Don't Have Plans for It
For homeowners or residents that don't feel they will use green areas often or don't have a clear purpose for them yet, we promise that having artificial turf installed is still the best decision.
Part of the benefits of having it is being able to avoid the common issues with the natural option, such as:
Frequent watering.

High maintenance.

Damaged areas or holes.

Insects and bugs.

Dirt and mud were everywhere.

Unable to let your kids or pets play all day without worrying about the heat or surface.
You see, part of having the artificial option lies in how much time and money you can save in the short and long run, and you will have a space ready for whenever you decide to use it or any activity that you want to plan in the future.
Although it can be a larger investment than you would like, it ends up paying itself since your water bill will be lowered, you won't have to tend to it every day, and you can rely on its stunning and fresh look even if you forgot about it.
We like to guide homeowners through the process and discuss all benefits. Even if you are considering selling your property, it is a great option to have the turf installed since it will increase your house's price, and more people will value the addition.
With all the alternatives and types of artificial grass and turf as well, you don't have to aim for the expensive ones only. Synthetic turf technology has improved over the years; our Synthetic Turf Team of Boca Raton worries about having products and alternatives that are:
Earth and pet-friendly.

Affordable.

Made with high-quality products.

Perfect for every occasion and project.

Do You Need a Large Space to Have It Installed?
Not at all. Be it small, medium, or large, you can have artificial turf installed in your area without any minimum requirements. For this, our team will assess the space, determine what's the best design and type of turf, and take all measures to be able to proceed with the installation.
Prices and timelines vary based on the previous information and details, so rest assured we will provide an estimate before we even decide to start working with your property and green area.
Although you don't need a large area for having synthetic turf, keep in mind that the larger it is, the more time it will take to get the job done.
Small spaces usually take about a day to finish, and even some medium-sized areas can be done within a day depending on the design of the landscape and how much lawn we need to cover—accurate measures.
For large-scale projects, 2 to 3 days is the average, but properties with over 1,000 square feet can extend our timeline to 4 days. However, this is negotiable as we know some clients will need the work done in less time.
Please, let us know if you are in a hurry so we can adjust the team that will be working on your installation, and we can offer you the best service possible.
How Homeowners Can Use the Green Area
Since synthetic turf is more resistant and offers better support for high-impact activities and a high volume of foot traffic, you can perform a wide variety of events and activities in the area. In other words, you can use the space for anything you want, even have your children run all day or your dogs play around while trying to dig your turf—which won't happen.
We will make sure to install an artificial turf that, although it will vary in some features and characteristics from other types of the same product, will come with shock reduction and resistance to most damage and common activities.
We can provide better alternatives when giving us more information about what you will usually do in your patio or yard, but for regular activities like in every household, all our types of synthetic turf are perfect and won't disappoint, especially in their prices.
Make sure to contact our team and allow us to design your area, install the turf and provide all post services required, such as maintenance and repairs, which aren't common, but we want to let you know they are available with our professionals for whenever you may need them in the next 20 years.
Below is our list of additional services: